The Offshore Wind sector needs to undertake surveys and observational operations during the construction phase, followed by regular Inspection, Repair and Maintenance (IRM) Services. Film-Ocean's fleet of ROV systems includes Work Class, Inspection/Observation Class and Micro Class ROVs, Launch and Recovery Systems (LARS), Tether Management Systems (TMS) and specialist and bespoke tooling.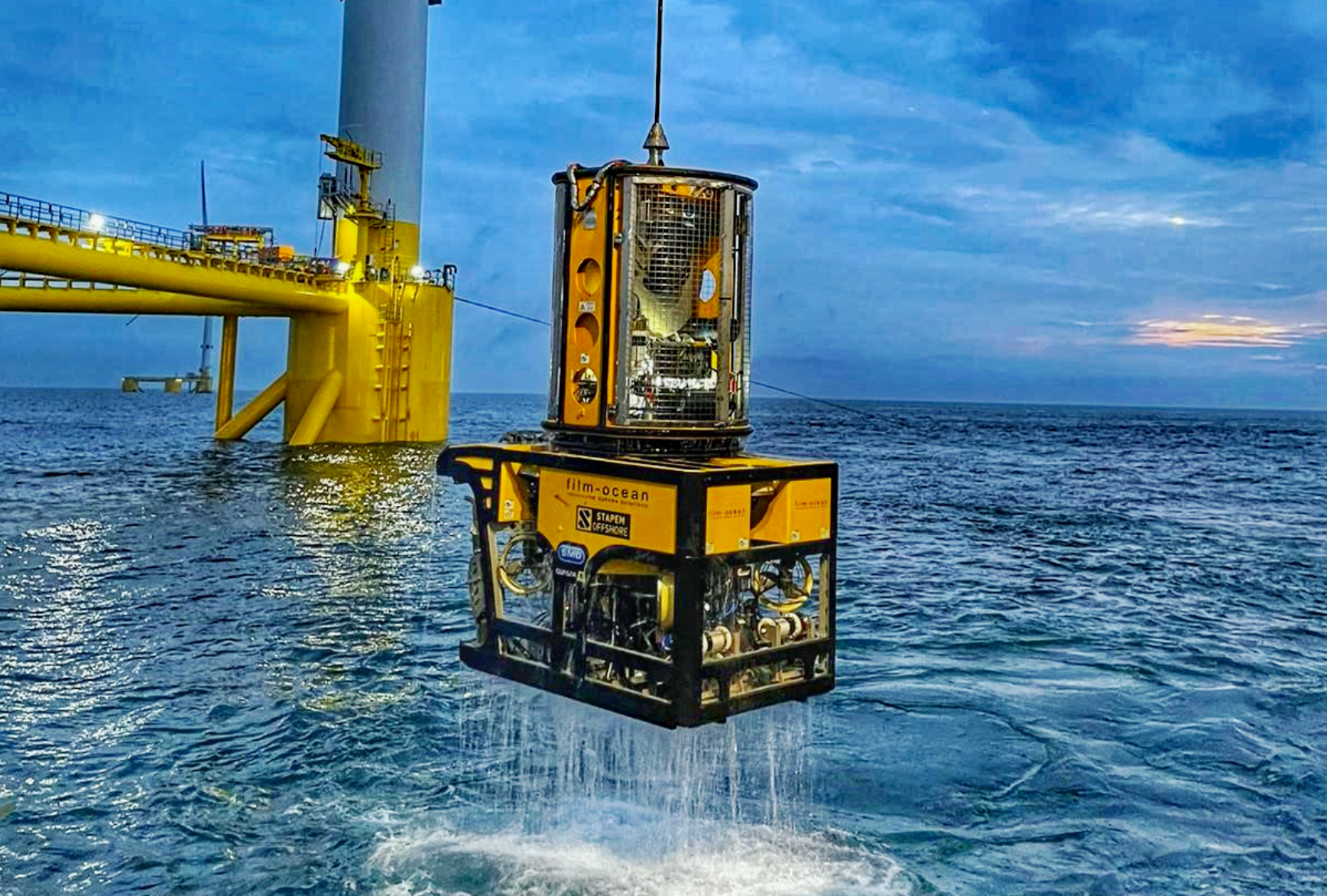 With over 16 years of proven experience and expertise, Film-Ocean has worked on a range of offshore projects. The ROV's are capable of operating at depths of up to 4000m but are also at ease working at the depths required by fixed and floating wind structures.
With experience from initial survey to installation and post installation condition monitoring Film-Ocean can provide a complete range of ROV services for offshore renewables.
Typical installation activities can include, pre-construction seabed surveys, monitoring of unexploded ordnance (UXO), anchor placement and mooring pull-ins. For operational offshore assets the focus shifts to condition monitoring which include, cable and chain inspections, chain measuring, structural inspection including specialist NDT inspection techniques and other key operations required.
The ROV solutions deployed sometimes call for a tailored or bespoke-build designed to address the client's specific requirements. For one such project, the client, an offshore wind operator, needed to inspect the circumferential welds on the wind farm's monopile. The wind farm was located in a strong tidal flow, leading to sub-surface current and poor visibility. This made the operation difficult, coupled with limited services necessitating all equipment to be mobilised to the work location. Film-Ocean's solution was to utilise an Inspection Class ROV and bespoke standalone tooling deployed from within the monopile where the environmental conditions were not as severe. The bespoke tooling, integrated into the ROV, aided station-keeping whilst the automated non-destructive testing (NDT) was carried out.
Additionally, Film-Ocean applied weight-saving methods to the ROV and tooling with buoyancy built into the ROV solution to allow for ease of operations.
Each ROV system mobilised is managed and supported by a team of highly skilled and experienced ROV offshore crew who are accustomed to working in harsh and challenging conditions. Every project is supported by a skilled onshore team which includes our Operations Manager, Inspection Manager and SHEQ Manager.
Film-Ocean's Project Managers work closely with the client and offshore crew throughout the project to ensure the project is delivered safely and to the highest standards.